Customer Reviews
Write a Review
Ask a Question
My dog ate my package
My dog tried to ruin Christmas by eating my daughter's most wanted Christmas gift that was delivered outside where he had access to it. Luckily, my purchase included Route Insurance and after filing a quick and easy claim form my purchase and shipping costs were refunded by the next business day. I promptly ordered another gift and so disaster was averted and Christmas was saved.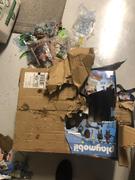 Not sure!
I'm not clear why I need insurance. Isn't the responsibility up to the company? I'm not happy about paying extra for it but I hadn't found my puzzle anywhere else and didn't want to risk having it get lost amid all the covid 19 shipping problems.
06/04/2020
The Red Balloon Toy Store
Hi Sam. We're sorry for the confusion. Every customer has the opportunity to opt-out and get more details about what Route covers on the cart page. The short of it is that Route covers more than what most couriers will cover including packages that were damaged or stolen after delivery and they process claims a lot more quickly than most couriers. Once again, you may always opt out of the extra coverage and we will cover the scenarios covered in our shipping policy otherwise. Thank you
Worth it
My package was delivered to the wrong address despite having given the correct address. The claim was quickly approved and I was able to order again!
5 stars for The Red Balloon and their puzzles
Absolutely love these escape puzzles!! And thanks for all of the shipping help during the time!